The 2002 Shirley Temple Convention was GREAT !
The theme was Captain January. The convention was hosted by Donna who had lots of help from the special man in her life, Tim. Donna certainly outdid herself - it showed from the minute we arrived. There were lots of Shirley goodies for all - raffles, door prizes, workshops, programs, doll competitions, displays and even a sales room. So, scroll on down to see some of the attendees, our workshop projects, goodies and more! Enjoy!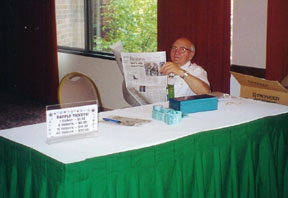 Earl taking a break
This 7th annual Shirley Temple Convention was all made possible by Earl, Marge and Rita - who held the 1st convention right here in the Wyndham Hotel in 1990.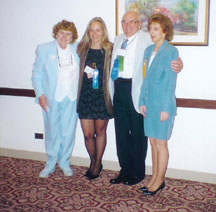 Marge, Rita, Earl & Donna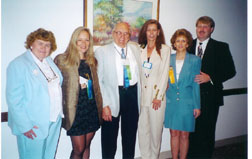 Marge, Rita, Earl, Loretta, Donna & Tim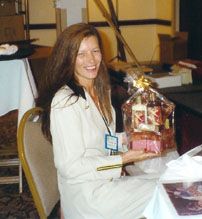 Showing off one of the beautiful gifts from my dear friend Donna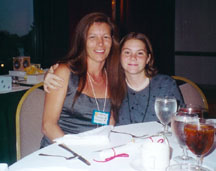 My beautiful niece Carol who accompanied me to the convention
One of the best things on our schedule were the 4 workshops. Pam's workshop was a paper/fabric Shirley doll. My workshop was a 1930's clothing rack. Madonna held 2 workshops which included the Capatin January jewelry and the very cute porcelain doll.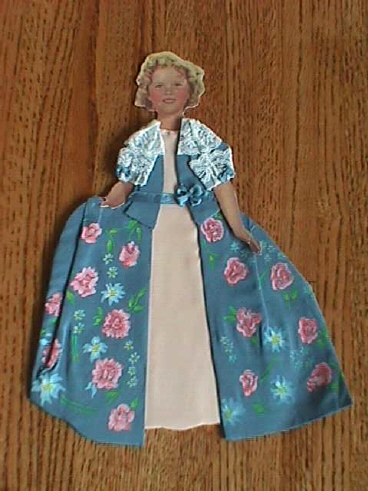 Paper doll, fabric dress, made in Pam's workshop
Above is the doll we made in Pam's workshop. She made us paper Shirley dolls, pre cut fabric pieces, lace and ribbons plus pre painted the flowers on the fabric skirt pieces. We glued our fabic pieces on to make this adorable keepsake. It will look beautiful in an oval frame.
Below is a reproduction of a 1930's clothing rack used by stores to display Shirley doll dresses. Making this rack would not have been possible without the help of 2 dear friends (Rita & Leslie) who supplied me with pictures, measurements and information. A big thanks to my husband who showed great patience as he taught me how to use HIS bandsaw, grinders, sanders and drills. He was a tremendous help and very patient as I took over his garage throughout the summer.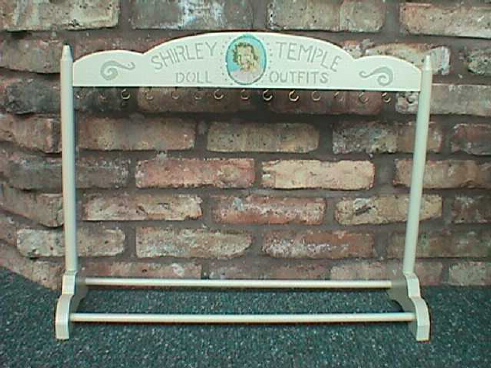 Clothing rack made in workshop
Jewelry made in Madonnas workshop
Above is the jewelry I made in Madonnas 1st workshop. She supplied miniature Captain January book covers which we glued onto wooden books We then applied pin and earring backs.
Below is a picture of the adorable little porcelain doll that I did in Madonnas 2nd workshop. She supplied the doll, doll stand, pre cut fabric and ribbon pieces, glue, needle and thread so we could make this Captain January outfit for her to wear.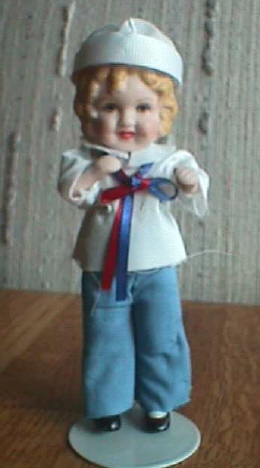 Porcelain doll I made in Madonnas 2nd workshop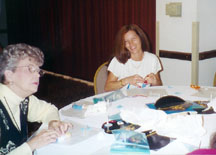 Working on Madonnas workshop item - porcelain dolls dressed in a Captain January Outfit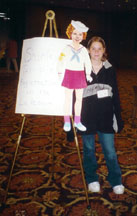 Welcome sign for Shirley Trivia Game
The trivia game was such a blast! There was a great turnout of players and spectators. Each team had 4 players - each winning team going on to the next round until 1 team won the final round. Each and every player received great gifts for participating. I did not play but was lucky enough to be seated at the front table facing the players and the spectators giving me the opportunity to see how much fun everyone was having. There was lots of laughing going on and occasionally you would hear the correct answer coming from different areas of the room as some were busting at the seams and could not help but blurt it out when the excitement got too much.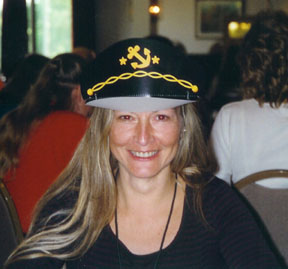 Rita - always smiling!
At our banquet Saturday night each attendee was presented with this awesome breakfast set made in Germany. It includes a plate, bowl, cup and silverware. It came in a pretty gold trunk. Also enclosed was a picture of "Star's" mother.
Beautiful breakfast set in gold trunk
In the movie, Star's mothers trunk washed ashore when the Captain rescued Star from a shipwreck. In the trunk was this gown that her mother wore when she performed in an opera and was given to Star on her birthday.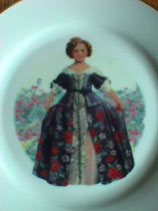 Close up of the gorgeous breakfast set pattern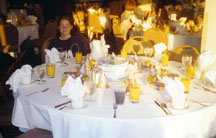 Breakfast table loaded with Shirley goodies!
"Star's" Birthday Cake centerpiece made by Donna
During 5 of our meals one attendee from each table was awarded the centerpiece. I was one of the lucky winners of the awesome cake shown above. Below are pictures of our wonderful goodies including a great soap figure made by Donna, coloring book, magnets, party hats, charm & pin, sailor hats, fan, candle, bookmarks and more.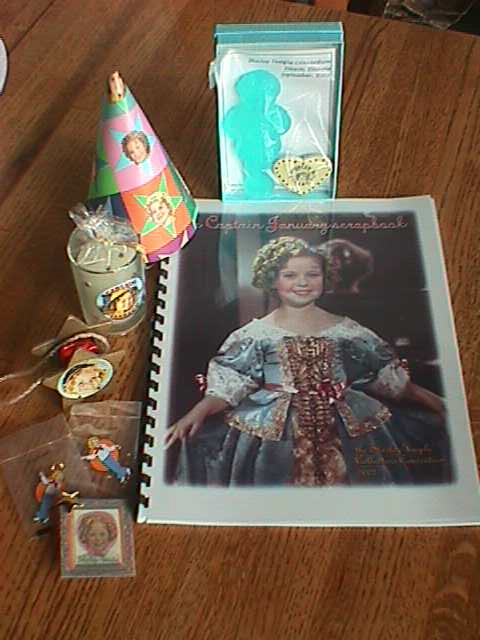 Some of the many goodies each attendee received - made by Donna and Tim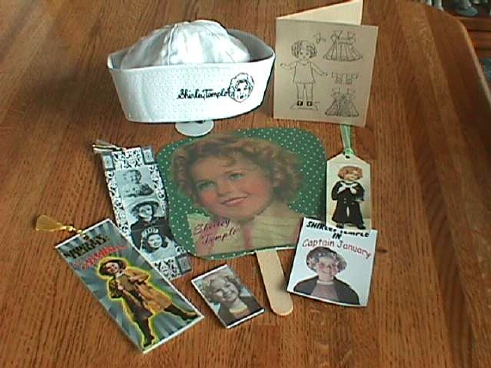 More of the many Shirley treats we received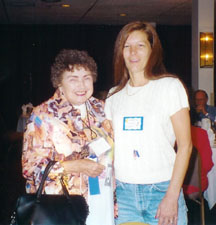 Dorothy & Loretta - I met so many new friends!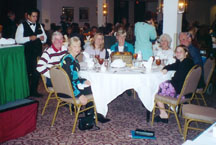 Group shot of our table